...but first.
My apologies again for my sudden absence. I mentioned a few posts ago that I was up to a little something...that little something is my
new shop
.
A friend of mine and I just opened a little shop...
Retropolitan
. Today was our first official open day. Things weren't crazy, but they were steady. I am excited to see what lies ahead. Pictures to come soon.
The last few weeks have been crazy hectic trying to get ready. I've been painting and sanding and drilling...phew.
I wanted to share a little project I made special for our grand opening


See this freaktastic (i.e. freakin' fantastic)lamp courtesy of Anthropologie? It's gorge isn't it? Ya, um, except it's pricetag is way ug-lay. This puppy costs $198. Do you know how many In-n-Out burgers that could buy...or Cheesecake Factory Lettuce Wraps. It really puts it into perspective when I put that way huh? And, just for the record, I don't think about food twenty-four seven.



Here is my knock off version.


It cost me under $35 to make it (that includes the lamp kit, shade and all of the dishes). I absolutely luh-huv how it turned out. It was a little bit of a labor of love, but if you're willing to roll your sleeves and put in the effort you can make one too. I will be posting a full tutorial soon.
I just wanted to also remind you to enter my Halloween Giveaway...Today is the last day. The winner will be announced tomorrow.
Linking to: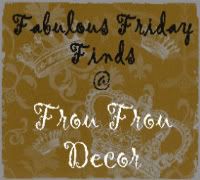 shabbynest.blogspot.com